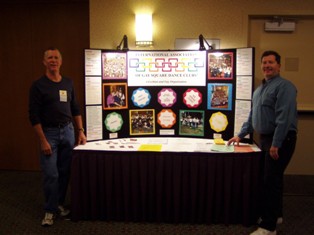 John McKinstry, Vice Chair of the IAGSDC, receives the Canadian
display from All Join Hands
In October, 2003, All Join Hands Foundation's first project was realized when it donated two additional travelling displays to the IAGSDC. One will remain in Canada and the second will join the original display in travelling around the United States. The IAGSDC has also received grants to cover the expense of transporting the display through 2006.
All Join Hands Foundation has also funded the production and mailing of the IAGSDC newsletters, which are sent to all members of IAGSDC clubs. These newsletters keep all members informed of the current activities of the Association. We are also funding the production of a new informational brochure to promote LGBTQ* square dancing and educate the public about it.
Our biggest project so far is funding the Gay Callers Association Caller Schools held at the annual IAGSDC Conventions in 2004 through 2018. All Join Hands Foundation's support has allowed the GCA to lower tuition, making the school affordable for all who wanted to attend. The result have been the most well-attended GCA Caller Schools in many years. We have been able to subzidize 262 students through this program.
Another very successful project is the New Dancer Program created by Star Thru The Silicon Galaxy in 2005 with a $5,000 donation. We have been able to subsidize over 500 new dancers and first time convention attendees though this program.
A new program in 2016 was created for Continued Convention Attendance (after the first convention) for those that are in financial need. The program was created by a very generous anonymous donor who has a passion for our activity. Request for financial assistance, under this program, should be directed to your club. The club will then request a grant from AJH. Requests for grants should be submitted by the club no later than January 31st for a July Convention and November 30th for a May Convention.
To encourage mixing between LGBTQ* square dancers and the larger straight square dance community, All Join Hands Foundation funded the Trail-In Dances at several annual IAGSDC Conventions. These dances were advertised to the local community and were free to all. They have been huge successes! Many straight square dancers took advantage of this opportunity to dance to their favorite callers and were exposed to LGBTQ* square dancing for the first time.
In 2005, 2006, 2008, 2012 and 2013, All Join Hands Foundation added funding for Contra Dance at conventions, bringing together the local LGBTQ* contra community and the LGBTQ* square dance community, and to begin an outreach to LGBTQ* contra dancers.
Currently All Join Hands Foundation is focusing its efforts on marketing and promotion. Other projects include other outreach programs to the straight square dance community, educational seminars, and public service announcements, but the progress does not need to stop here. Funding such projects is only the beginning of ways All Join Hands Foundation can positively influence LGBTQ* square dancing and related dance forms. The possibilities are endless!
The key words to our goals are Preserve, Promote, and Educate! Please contact All Join Hands Foundation if you have ideas for specific projects that we can fund to advance our goals.
An important note: because of our tax-exempt status, All Join Hands Foundation can fund dances only in certain situations, and cannot make general cash grants to individuals.